Silver Samurai, real name Keniuchio Harada, is a character from the X-Men series by Marvel. He is a mutant with the ability to generate a tachyon energy field from within his body. He typically focuses the energy through his sword; allowing it to cut through almost any substance.
Silver Samurai debuted in X-Men: Children of the Atom and reappeared in Marvel vs. Capcom 2: New Age of Heroes.
Story
[
]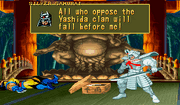 After Magneto's defeat, Silver Samurai tells him that his honor and loyalty is to the Yashida clan only, and that Magneto's dreams would clash with theirs. Back in Japan, he announces his victory to the clan. Wolverine interrupts his speech and is easily defeated by Silver Samurai.
Gameplay
[
]
Silver Samurai has an enormous range on many of his attacks, with him being Marvel's main poking character. He can easily fend away many of his opponents' moves with his s.mk, c.lk and many more, albeit even in different situations (c.hp for an anti-air, etc.). He also can upgrade his katana with elemental properties to give himself somewhat of an advantage, but at a cost (in MVC2) change his stats drastically (e.g.: attack, defense, function on moves, etc.) making him one of the most complex characters in MVC2.
Special Attacks
[
]
Hyakuretsutoh: Silver Samurai performs a series of slashes at his opponent for as long as you mash the Light Punch button. You can dash forward while doing this and if you connect, you'll combo your enemy until one of your hits ends up bouncing them into the air, usually it's around the 4th hit, but your mileage may vary. Samurai has a quick version of this attack that acts just like the original, except it comes out as soon as you complete the command, mashing the Punch button you used will keep this attack going, and you can also dash forward while performing this as well.
Shuriken: Your projectile attack, which can be directed by pressing up and down with the joystick. Strength of the button pressed controls the speed at which this flies, with Hard being faster. If thrown from full-screen's distance this will hit 4 times, if you take two steps closer though it hits 6 times, doing a bit more damage.
Teleport: One of his X-Ability move back in X-Men: Children of the Atom, Silver Samurai fades himself and reappears at the same spot. Not exactly a teleport move but uses this to evade projectiles and incoming melee attacks. It was later removed in Marvel vs. Capcom 2.
Assist Attacks
[
]
Hyper Combos
[
]
Theme Song
[
]
Gallery
[
]
Sprites
Trivia
[
]
He is the only Marvel character with a Japanese voice actor in the entire Marvel vs. Capcom series.
He holds the highest number of available Hyper Combos in the Marvel vs. Capcom series, especially MVC2 carrying 7. On top of that, he holds the number of Hyper Combo abilities of 3, whereas Spiral only has 2 Hyper Combo abilities.
See Also
[
]
Silver Samurai's moves in Marvel vs Capcom 2: New Age of Heroes
External links
[
]
[

]